The webshop is closed until 12th of june. For questions please send an email.
Mexican hammock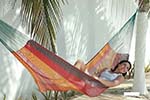 The Mexican hammock is handmade. Each woven hammock is therefore unique. Therefore we put each hammock separately on the photo. Available sizes:
B(asis)
,
L(arge)
,
XL
,
XXL
,
XXXL
. The XXXL is also available as:
Thick Cord
.
More info :
Mexican hammock
,
Trip to the Maya